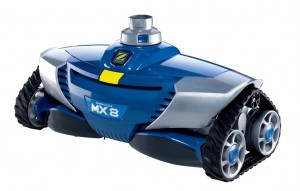 The Zodiac Baracuda MX8 is one of the best pool cleaning robots I've ever used. Our pool has a waterfall and many different size steps and the MX8 makes everything look easy. The MX8 is powered by the suction from your pool vacuum and has intelligent navigation capabilities. When the MX8 hits our pool waterfall it stops, backs up, and continues in a different direction. One of the coolest things I've seen with the MX8 so far is that it will literally crawl all the way up the side walls of the pool until it hits the top of the water then it will back up and clean back down the wall.
I have yet to see this robot get stuck where it needed help. I've never seen a cleaning robot that cleans and moves as efficiently as this one, it's highly recommended!
The MX8 looks like it has quite a few parts that can go bad but from everything I've read, Zodiac makes fine equipment and offers very good service through any of their retail partners like Leslie's Pools here in Arizona. I needed to get a part for the MX8 as I needed to replace one of the fly wheels inside the unit. Leslie's Pool supplies has a good selection of replacement parts for the Zodiac Baracuda MX8, if they don't have it they can order it for you.
If you're like me and want a digital copy of the manual, I've included it here: Zodiac – Baracuda MX8 Manual
If you are looking for a list of available parts for any of the Baracuda line of cleaners, here is a link to the Zodiac site: Baracuda Pool Cleaner Parts List.
Disclosure: If there is a product that I like and it has an affiliate program, then I might link to that product using an affiliate link. By using an affiliate link it means that I might earn a commission on a product if you buy something through that link. This doesn't cost you anything but I just wanted you to be aware.