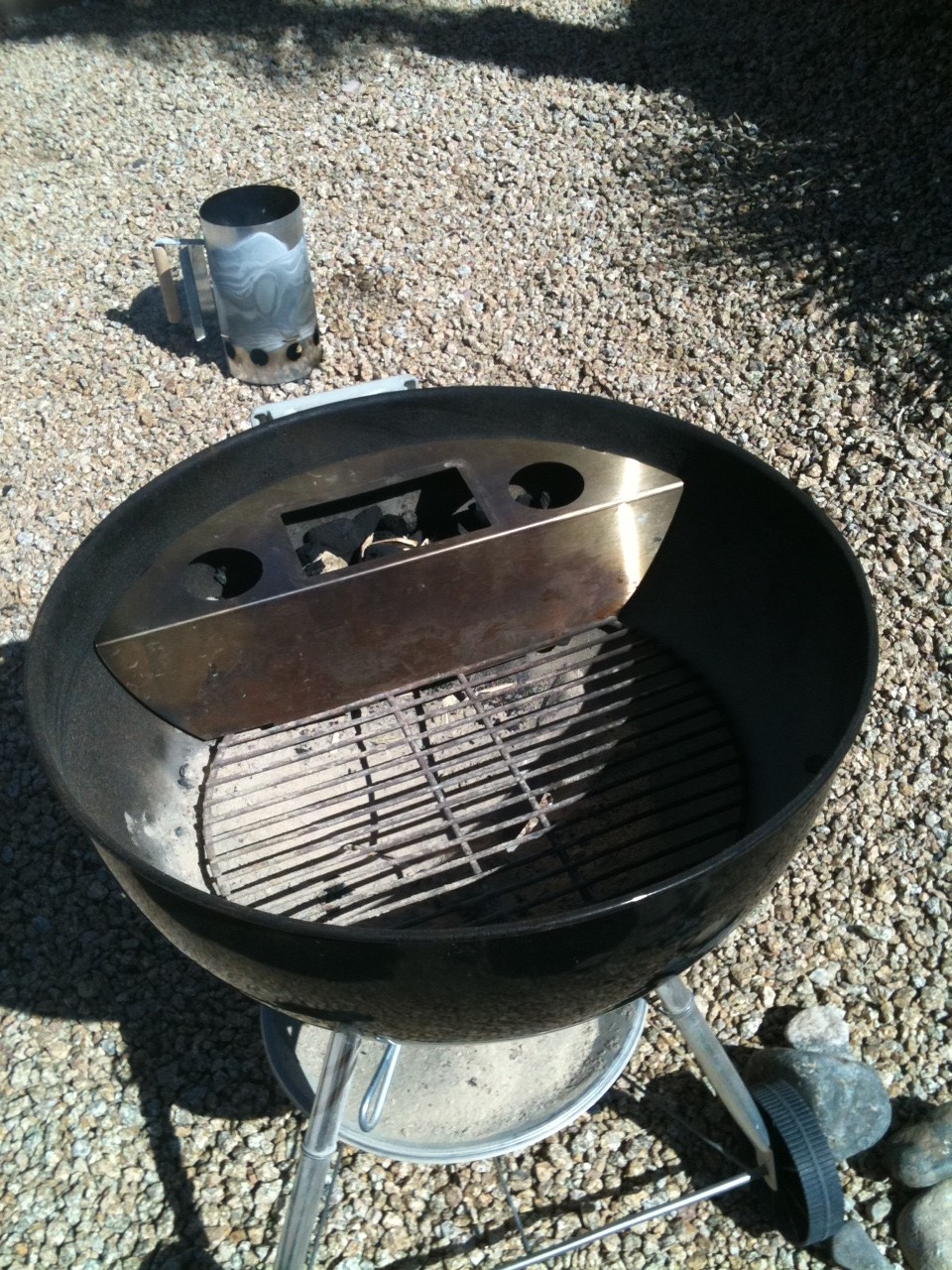 For my second try doing Smokenator ribs, my goal was to shoot for moist ribs while keeping my temperature under control. Our local Albertson's (and Fry's Food Stores too) had a special on pork ribs for buy 1 get 2 free, it was a heck of a deal so we stocked up with 6 racks of ribs. I know a lot of folks don't like to freeze meat but when you start out with the Smokenator or any other smoker, practice is going to make perfect so stock up on the cheapest best quality meat you can find. Then you'll always have a piece of meat so you can get out the Smokenator and my Weber Grill to smoke some ribs! I think the next purchase will be the Hovergrill kit. The Hovergrill allows you to use more space inside your grill and as a result, you can stack more ribs on the grate. If you don't have a Smokenator yet, I recommend buying the Smokenator 1000 + the Hovergrill kit.
I decided that I would cook these ribs with a mixture of regular Kingsford charcoal and the remainder of a bag of lump charcoal (mainly smaller pieces). I would say that my tendency was 65% Kingsford charcoal, 35% lump charcoal. I think that I am going to use a similar mix for the next few times I use the smokenator. When I use lump charcoal alone my temperature tends to run on the high side, which is ok but I can't seem to keep the dome temp around 225 degrees.
My recommended books & rubs:
Regarding the meat preparation, the ribs were already seasoned by Albertson's. I added a little bit of McCormick's Garlic Pepper seasoning just for good measure. If you've never used McCormick's Garlic Pepper grinder before, you've got to try one!
If you need an excellent Rib Rub for the Smokenator try this recipe:
Quick & Easy Rib Rub
1/4 cup brown sugar
3 Tbsp paprika
2 Tbsp freshly ground black pepper
1/2 Tbsp celery salt
1 Tbsp onion powder
2 Tsp garlic powder
2 Tsp mustard powder (you can also substitute by slathering ribs with yellow mustard before applying the rub)
1 Tsp ground cumin
1 Tsp ground cayenne
If you don't want to make your own rub, I recommend Bad Byron's Butt Rub Barbecue Seasoning. Trust me, this is the best rub you can buy on the market today. I've used it on ribs, chicken wings, chicken breasts, catfish, veggies, you name it!
I filled my charcoal chimney and started the burn. Next, I put together and packed the smokenator with charcoal and make sure the metal tabs meet the metal tabs on your Weber grill, this will ensure the Smokenator fits snug and the charcoal won't fall. I find that when I pack it about half full (including wood chips) and then fill the other half with lit coals it tends to burn a little hot but also still has enough lit coals to ignite the charcoal already packed in the smokenator. I have had problems in the past of things not really taking off so that's why I start with more hot coals. I can get the temp down within 30 minutes.
As you can see from the photos I used Applewood chips, I soaked them overnight in water. The overall cooking time was 3 hours, the last 10 were over medium heat on my gas grill to firm up the meat, my wife likes smoked ribs done that way 😉
Try your best to maintain the low dome temperature if possible. It's ok for it to go up and down at times but once you are able to maintain the temperature, it's almost as if it clicks! Good luck and happy smoking!
Disclosure: If there is a product that I like and it has an affiliate program, then I might link to that product using an affiliate link. By using an affiliate link it means that I might earn a commission on a product if you buy something through that link. This doesn't cost you anything but I just wanted you to be aware.