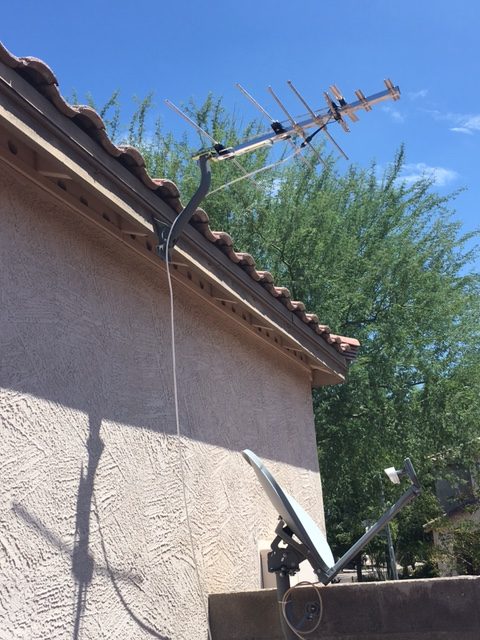 Looking for an antenna that replaces cable or DirecTV? Do you pay too much for DirecTV or cable? This DIY tutorial will show you how to cut the cord and switch over to an HDTV antenna to pull over-the-air (OTA) channels for free. This setup also includes streaming channel options too. We saved over $220 a month when we decided to cut the cord and replace our satellite dish with an HDTV antenna. Follow my steps below to switch from DirecTV and install an antenna and start saving money:
Equipment needed to start
Mandatory equipment needed: (Amazon Prime Day is here, some of the items below may be on sale!)
HDTV Antenna – I purchased the RCA Outdoor Antenna with a 70-mile range for less than $50
RG6 Coaxial Cable – You will need cabling to run from your antenna to your connection in the house
Coaxial Cable Splitters – You will need these to replace any DirecTV SMW adapters or splitters
Optional Cord Cutting equipment:
The first step in this process is to figure out what HDTV antenna you need. I'm going to walk you through the steps I used to replace my DirecTV with an outdoor HDTV antenna. You can also use a Mohu amplified indoor antenna to capture HDTV channels from inside your house for one TV. Using an external or outdoor HD antenna should give you a signal in every room with a coaxial outlet. DirecTV is different from basic cable because you need a box for every TV. If you had basic cable, you should get HDTV in every room that had cable.
The first thing you need to see is what channels are available in your area. Head over to the TV Fool to use their HDTV signal detector. To enter your address, click the large "Click Here" in the middle of the page and you should be directed to a page where you can enter your address. If you will use an outdoor attic installation for your HDTV, you can also enter the height at which your antenna will be placed. The TV Fool tool will help you inform the range of HDTV antennas you'll need.
Based on my location, I purchased the RCA HDTV Antenna 70-mile range.

Where to Install HDTV Antenna
The best approach, in my opinion, is to install your antenna close to your DirecTV dish since you know that is the line into the house, and because of that, you know the signal will get to every room. Using the instructions that came with your antenna, find a safe location to install it on your house or roof. It would help if you always were mindful of any large objects that might be on the path of receiving a strong signal. You can always move your antenna around to a different location and then run coax cabling to the location where it enters your house. Based on your DirecTV satellite mount, you may be able to carefully remove the satellite dish and mount the HDTV antenna right on the DirecTV dish mount.
HDTV Antenna installation and removing DirecTV
Now it is time to head to your DirecTV dish and inspect the coaxial connection that comes from the dish. My DirecTV system was using the Single Wire Switch or SWM technology so unfortunately, I can't speak to any other DirecTV technologies. Here is a picture of the SWM adapter that was coming from the DirecTV dish, note that it looks very much like a cable splitter.
How to install TV antenna
Hook the antenna up to the splitter heading into your house. This is where you previously connected your hose to DirecTV. You will want to understand where the different cables are going from this SWM adapter. In my case, they were going to another box that was an original Cox cable installation for the house. I identified a ground wire that was existing. Next, I hooked the antenna to the existing coaxial cable line into the house.
My house is wired in every room with coaxial cable. All I had to do was install the HDTV antenna and hook it up to the house.
I was worried about signal loss since I have no idea where other splitters could exist and don't have an idea of the existing wiring in the house either. This is probably common sense but worth noting that the signal is strongest the closer you are to the antenna and the least amount of splits in the line as well.
Install Coaxial cable splitter
My next step is to remove the DirecTV SMW adapter and replace it with my new Coaxial splitter. Use the coax cable from your HDTV antenna as the "in" source, and then use whatever cabling was attached to the "out" sources on your DirecTV SWM adapter as the "out" sources for the splitter. Once you have replaced the SWM adapter with the coaxial splitter then believe it or not but you're almost done!
How to switch TVs from DirecTV to antenna HDTV
Step 1: Remove DirecTV from your TV and hook the coaxial cable directly to the TV
Now that we have all of the connections completed, we need to see what comes in on your TV. I would recommend not starting with your family's main tv but instead start with a TV in a spare room. The next step is to remove the DirecTV box from your TV. My TVs were all connected via HDMI cable, so I removed the HDMI plug from the back of the TV. Next, find the coaxial cable that runs from the wall outlet to the back of the DirecTV box and unscrew it from the DirecTV box. Once removed, find the cable connector on the back of your TV and screw the cable in. I'm not aware of an antenna cable switch that would allow for multiple lines in.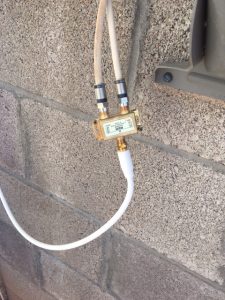 Step 2: Find HDTV channels on your TV
The next step will be for your TV to catalog the new HD channels it is receiving. Since we all have different brand TVs, I recommend finding the remote that came with your TV, you can use your DirecTV remote if you programmed it to control your TV, but more on that later. With your remote, you need to access your TV's menu, and from there you need to try to find a section that says "Tuner" and from there you might see the input as Cable, if you do, switch it to the "antenna" or "TV" input and complete a channel scan operation. If this hasn't been of any help, you can Google "how to scan for HDTV channels for [insert brand of TV] TV"
How to find HDTV channels on a Vizio Smart TV
Here are the basic instructions on how to find HDTV channels from an antenna source for Vizio TVs:
Press the Input button on the remote control and select "TV".
Press the Menu button on the remote.
Select "Tuner" and press OK.
Check the "Tuner Mode" settings. It should say "Cable". If it says "Antenna" press the left arrow button on the remote to change it to "Cable".
Go to "Auto Channel Scan" and press the OK button on the remote.
Your TV will then scan for channels based on the signal strength. When the progress bar reaches 100% you will have access to all of the TV channels your TV receives.
Step 3: Watch free antenna HDTV
Scroll through the local channels you want and watch each of them for a few minutes. You'll want to watch and see if the signal comes in strong and steady. If not, you may need to go back to your antenna and adjust the direction it is pointing. I spent about 30 minutes calibrating the antenna based on the various signal strengths I was receiving. When you are satisfied that you've found all of the channels you're going to get, repeat this process for every TV.
I had one minor issue during my transition to HDTV. A TV in a bedroom was only getting half the channels that the others were getting. I thought it was a signal loss because this was our master bedroom and was the furthest point from the antenna.
When the DirecTV installers were at our house we had them run coax to an outlet so we could have a TV on our patio. Turns out they spliced the cable in this bedroom and there was a SWM adapter on the line! As I mentioned before the SWM adapters are for satellite signal only and it wasn't allowing the HDTV signal to pass through. I replaced the SWM splitter with a standard splitter and reprogrammed the TV and I had all of the other channels my other TVs were receiving. At this point, I don't really think I have any signal loss from point of entry to the TV furthest away.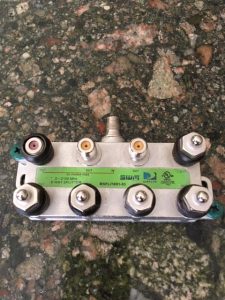 Final Thoughts and Tips
After completing the transition over to OTA HDTV it seems to me that the picture quality is better than DirecTV. It could be wishful thinking but I honestly believe it to be the case. I also thought that this process would be much more difficult than it really is. I really wish we had done this sooner because we do not miss DirecTV. It is also worth mentioning that if you have a family member who has DirecTV, you can also utilize their login to be able to stream content from various apps like ESPN, FoxSports, HBOMax, Discovery, Showtime, etc.
Can I use an old DirecTV dish as an antenna?
No, the DirecTV satellites aren't made for receiving HDTV signals. Depending on your mount, you may be able to utilize the DirecTV wall mount and pole to mount an HDTV antenna.
A DirecTV dish cannot be used as an antenna because it is designed to receive signals from satellites in orbit, while antennas are designed to receive signals from terrestrial broadcast towers. While a DirecTV dish may be able to pick up some local over-the-air (OTA) channels if it is properly aligned and in close proximity to the broadcast towers, it will not be as effective as a dedicated OTA antenna.
How to turn an old satellite dish into a TV Antenna
You want to turn your old DirecTV dish into an antenna for over-the-air TV. The only reusable parts of the DirecTV dish would be the mounting arm of the dish. Depending on your new TV antenna, you may be able to re-use the existing DirecTV mount. Check with TV Fool to make sure the placement of your existing satellite dish will give you a good HDTV signal.
Can I use DirecTV wiring for HD antenna?
Yes, you should be able to use the existing wiring in your house. When I switched from DirecTV to an antenna, I was able to hook my antenna to my house where the DirecTV line was and I got TV in every room.
Canceling & replacing DirecTV
So in my experience with canceling DirecTV, they only wanted 3 of the 6 units I had back. I find this to be quite disingenuous since they have no problem charging me equipment charges every month, but I digress . . . .
If they do not request back all of the equipment and you programmed your DirecTV remote to control your TV, you might as well keep the remote. No reason to return a universal remote since one of your TVs may need a new controller one day.
The process to cancel with DirecTV was pretty simple. They sent me the postage-paid boxes to return the equipment they wanted and they sent me a prepaid Visa debit card for the balance left on my account. If they tell you that you can just cancel when your month is up, just say no and ask for a refund. This helps pay for your antenna and any other equipment you had to purchase.
How much money we save by replacing DirecTV
At the beginning of this tutorial, I had links to optional equipment if you want to add streaming to your TVs. We've been really happy with Roku devices as well as the Amazon Fire TV sticks. The way the current technology is, you will need a streaming device for every TV if you want to stream video. My math shows us way ahead over the next year even if we were to purchase a streaming device for every TV. We saved over $220 a month and over $2,400 a year by replacing DirecTV and installing an antenna. Please note that this tutorial was based on my specific setup. Please leave any comments or questions below.