On a recent visit to Canyon de Chelly, part of the Navajo Nation, my wife and I had a great time learning about the Anasazi ruins & Navajo people in addition to the canyon and the Navajos that currently live there.
About 70 families live in or around Canyon de Chelly. Technically, the land is owned by the Najavo Nation. The land is leased to the occupants at a rate of $65 for a 65 year lease. So the occupants of the actual land aren't exactly the owners. The first thing that greats you as you enter the park is the Visitors Center. Canyon de Chelly was named a National Monument on April 1, 1931.
According to Wikipedia the name Canyon de Chelly comes from:
The name chelly (or Chelley) is a Spanish borrowing of the Navajo word Tséyi', which means "canyon" (literally "inside the rock" < tsé"rock" + -yi' "inside of, within"). The Navajo pronunciation is IPA: [tséɣiʔ]. The Spanish pronunciation of de Chelly [deˈtʃeʎi] was adapted into English, apparently through modelling after a French-like spelling pronunciation, and is now pronounced /dəˈʃeɪ/ (də·shā′).
There are many outlooks around the rim of the canyon: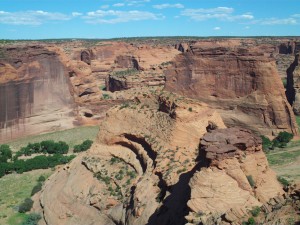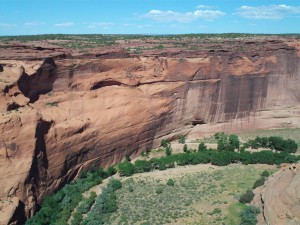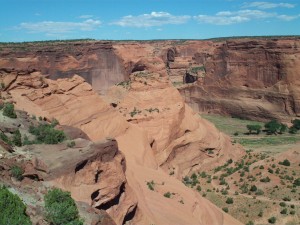 One of the more popular things at Canyon de Chelly is the White House Ruins. Nestled into the edge of the lower canyon with a southern exposure is a set of Indian ruins named the White House Ruins. This is the only trail you can go without a Navajo escort. The reason they call it the White House is because of the white colored plaster/paint that was used on the house. White House Ruins stands out above lower ruins in a sandstone cave in Canyon De Chelly National Monument. These ruins were built by the Anasazi people. Anasazi is Navajo for "the ancient ones."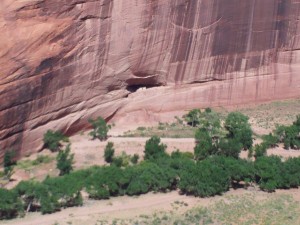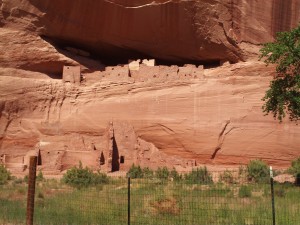 Here is a video of the Anasazi White House Ruins from the outlook above:
If you go to the Chinle, AZ and Canyon de Chelly area I'd recommend staying at the Holiday Inn and I highly recommend the Canyon de Chelly Tour from Lee and his family. My wife and I decided to do the private tour. Leandro picked us up at the Holiday Inn and then stayed with us for the next 3 hours and imparted his wisdom of the canyon that he's learned over giving tours since he was 14 years old. His father still lives in the canyon.
All in all it was a very cool diversion for late summer in Arizona. It's hard to believe some of the history contained out here in the desert Southwest. We also knocked out a couple of other attractions on this trip including Monument Valley in Utah and the Petrified Forest in Arizona.
GPS Coordinates for Canyon del Chelly
Lat: 36.15528
Lon: -109.50833
Elev: Unknown
Canyon De Chelly National Monument website
Recreation Area Map
Park Email: ailema_benally@nps.gov
Phone numbers
Headquarters 928-674-5500
Address
Canyon de Chelly National Monument
PO Box 588
Chinle, AZ 86503