Here's another list of good marketing articles I think are valuable. More and more Inbound Marketing is becoming the buzzword in the online marketing world. I found an article and an Inbound Marketing Case Study from HubSpot which is very interesting. Let me know what you think of the articles in the comments. Use the comments if you have a similar article you'd like to recommend.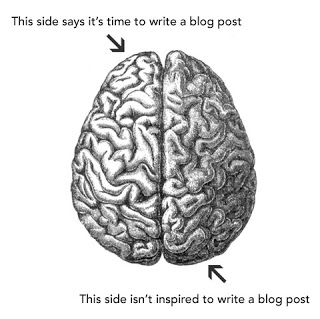 This blog has been a barren wasteland since November 2012, that was soooooo last year! Over 70 days ago I made my last post about responsive design. To be honest that post kinda sucked but I was just issuing a PSA, I tend to do that from time to time. Anyway, back to the subject, why don't I write? I don't write because it doesn't interest me any more than watching paint dry.
I don't think I'm a good writer. There is a formula to writing good articles whether they be a DIY hack or a post explaining the results of an A/B test on a website. You need to keep people engaged while still moving the story forward with some sort of reward at the end. In one of the great (in my opinion) long running jokes within Family Guy episodes, Stewie starts to ask Brian about the novel he's writing. I believe this joke was re-visited from time to time over a few seasons. It becomes a joke about Authors in general, because Brian likes to write just as much as any of us and Stewie is politely jabbing Brian about how he'll never, ever finish his novel. Please enjoy this clip, I present Stewie:
But really, I must have missed that creative piece of DNA to be able to conceptualize and research blog posts. I must have left it in 5th grade with book reports. Man I hated book reports. So we've established that I don't like to write (I hope I've been able to get that point across with my writing!).
What am I going to do about it? I'm going to write one post a month and along with that post will be an in-depth look (or documentary piece) on why and how that post was created. Now you're probably saying to yourself "This sucks, I wouldn't read that." well you're probably right but I'm going to do it anyway. My commitment on February 10, 2013 is that I will create 6 blog posts along with the corresponding documentation to support the creation and execution of those blog posts. It's kinda like cough medicine, you don't like it but you just have to take it!
I found some good resources to get me started 'writing':
How to Write Good Content – Yeah!
10 Tools to Improve the Blogging Process
Stay tuned to my blog for the first post, due by the end of the month. By the way, every post in this process (this one included) will be tagged with 'i hate writing' so the entire experiment can be easily found.
-Brain Photo courtesy of Brian Mitchell