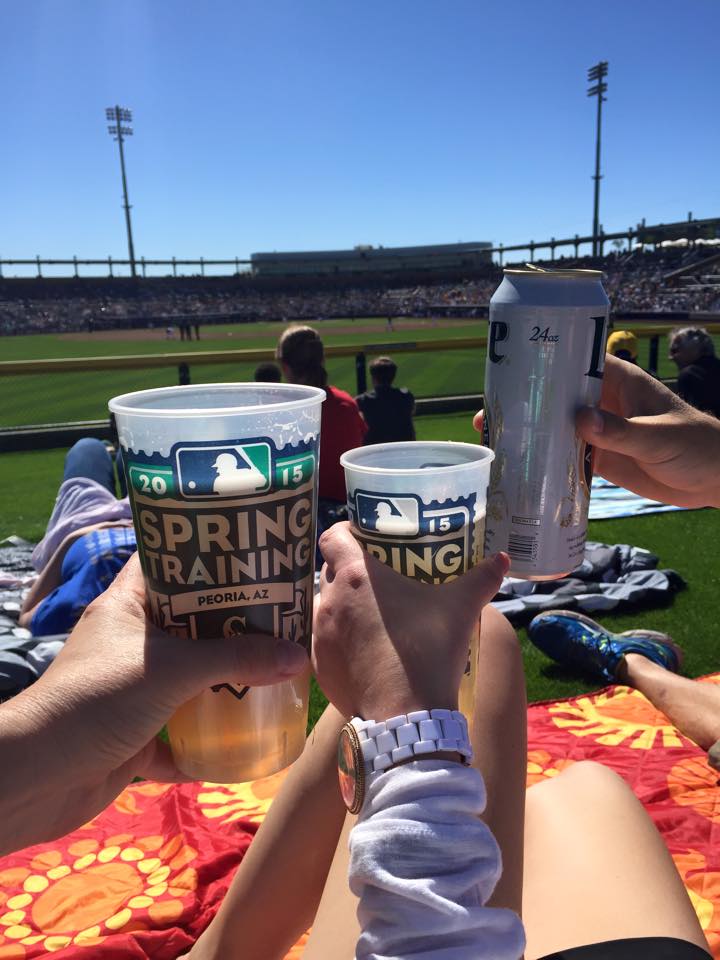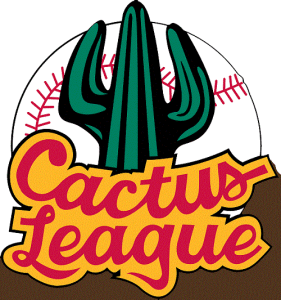 Are you or someone in your family a baseball fan? It would help if you considered making a trip out to Phoenix for the Cactus League Spring Training Games. The following teams currently make their spring training homes in the Phoenix area: Arizona Diamondbacks, Chicago Cubs, Chicago White Sox, Cincinnati Reds, Cleveland Indians, Colorado Rockies, Kansas City Royals, LA Angels of Anaheim, Los Angeles Dodgers, Milwaukee Brewers, Oakland A's, San Diego Padres, San Francisco Giants, Seattle Mariners, and Texas Rangers. That's MLB 15 teams all within the Phoenix-metro area! March is also a great time of year to plan a vacation for the Phoenix area. The weather is warm but usually an excellent chance for folks from up north to come down and thaw out. Here are a few reasons why Arizona is the best destination for a Spring Training trip.
2020 Cactus League Spring Training Schedule
The 2020 Cactus League Schedule is out, and there are many night games. Having more night games on the schedule is different from previous seasons. It also might be a reaction to Cubs games which typically sell out. This gives other stadiums a chance to not compete directly against the Cubs.
What are the dates for Spring Training 2020?
Cactus League games start on Friday, February 21, 2020, and end on Sunday, March 22, 2020.
What is Spring Training Weather in Phoenix?
The average temperature in March for Phoenix (Scottsdale, Surprise, Peoria, Mesa, and Tempe) is 75 degrees for the daily high. The month of March is a pivotal month for those of us who live in Phoenix. March is usually the last full month of pleasant weather before it gets too hot. It starts to reach triple-digit weather consistently by the end of May. The average temperatures in Phoenix during March are a high temp of 75 degrees Fahrenheit and a low temp of 47 degrees Fahrenheit. For most of March, the weather is near perfect without a cloud in the sky. You really can't beat sitting in the grass seating in the outfield enjoying a cold beer on perfect March afternoons. Some of the ballparks have outstanding selections of craft beer too. Here's a couple of cold beers at Peoria Sports Complex: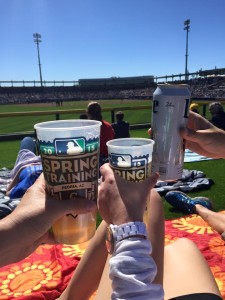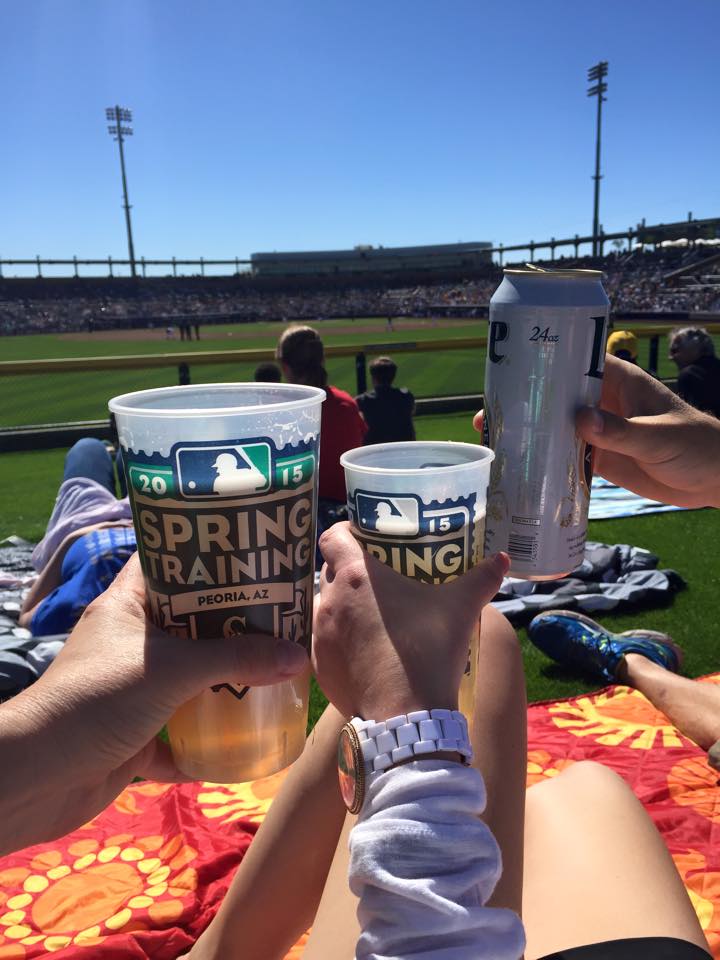 Where are the Cactus League Stadiums Located?
One of the benefits that Arizona Spring Training has over Florida Spring Training is that all of the Cactus League teams are in the Phoenix metro area. 10 of the 15 teams share a facility with another group. Four of those stadiums are newer than five years old (Salt River Fields at Talking Stick, Sloan Park at Mesa Riverview, Camelback Ranch, and Goodyear Park). Spring Training in Arizona is easy to get from ballpark to ballpark, and a good portion of the facilities are less than five years old. As I mentioned before, the ballparks are starting to serve many more craft beer options. I went to the Peoria Sports Complex for a Padres game and was thoroughly impressed by their craft beer tent. They had local beers like 4 Peaks but also had a tap of Stone IPA from San Diego. Most of the ballparks try to have beer and food selections that are similar to what you'd find at the major league park or at least things you might see in that given town.
Stadium name and address:
Here is a list of the different ballparks in the Phoenix area along with the teams that play there:
Salt River Fields at Talking Stick
Arizona Diamondbacks & Colorado Rockies
Address:
7555 North Pima Road
Scottsdale, Arizona 85258
Phone Number: 480-270-5000
Sloan Park
Chicago Cubs
Address:
2330 W. Rio Salado Parkway
Mesa, AZ 85201
Phone Number: 1.800.THE.CUBS
Camelback Ranch
Chicago White Sox & Los Angeles Dodgers
Address:
10710 West Camelback Rd.,
Phoenix, AZ 85037
Phone Number: 623-302-5000
Goodyear Ballpark
Cincinnati Reds, Cleveland Indians
Address:
1933 South Ballpark Way,
Goodyear, AZ 85338
Phone Number: (623) 882-3120
Surprise Stadium
Kansas City Royals & Texas Rangers
Address:
15850 North Bullard
Surprise AZ 85374
Phone Number: 623-222-2000
Tempe Diablo Stadium
Anaheim Angels
Address:2200 W. Alameda Dr.
Tempe, AZ 85282
Phone Number: 480-350-5205
Maryvale Baseball Park
Milwaukee Brewers
Address:
3600 N. 51st Ave
Phoenix AZ 85031
Phone Number: 623-245-5555
Hohokam Park
Oakland A's
Address:
1235 N Center St
Mesa, AZ 85201
Phone Number: 480-644-4451
Peoria Sports Complex
San Diego Padres & Seattle Mariners
Address:
16101 N. 83rd Avenue,
Peoria, AZ 85382
Phone Number: 623-773-8700
Scottsdale Stadium
San Francisco Giants
Address:
7408 E. Osborn Road
Scottsdale, AZ 85251Phone Number: 480-312-2580
If you choose to come to Phoenix during spring break for Spring Training, make sure you plan. You will more than likely need to rent a car, so the sooner you make your reservation, the better the price will be. The rental car companies are also busy handling the rental needs of some of the players too so book your reservation as soon as possible. I would also plan out your game schedule and buy your tickets in advance; all of the teams allow you to purchase Spring Training tickets through their respective websites. There are a lot of really nice hotels in the Valley of the Sun, and some of them are close to stadiums in Scottsdale so you might want to check ahead and see if the hotel or a restaurant close by has a shuttle for the games thereby maybe eliminating the need for a car.
Please leave any comments on Arizona Spring Training below. Also, leave any tips you may have for people planning a vacation to Arizona for Spring Training.