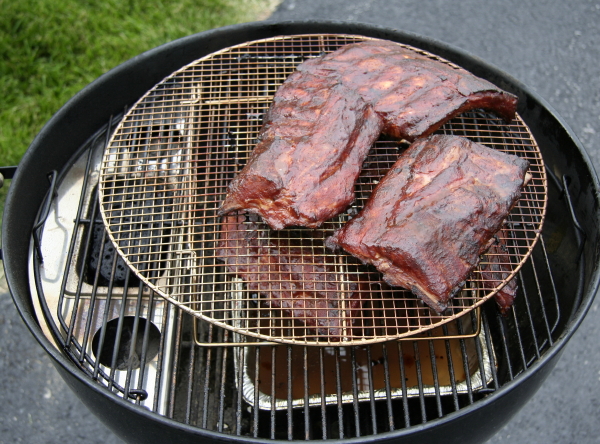 Do you have a Weber Grill and wish you had a Smoker?  My wife and I were married recently and got a gas grill as a gift.  We already had a Weber kettle grill, and my wife put the kibosh on a smoker, so it was on her to find a suitable replacement 🙂 Boy did she find a great product in the Smokenator. The Smokenator is perfect for someone who wants to learn the basics of 'low and slow' smoking. Also, you'll learn how to take care and monitor your smoking because you do need to get good at temperature management with the Smokenator. There are a few essential items you'll need, Weber grill, Smokenator, thermometer, and I highly recommend Franklin Barbeque: A Meat-Smoking Manifesto, it's full of recipes and techniques for cooking and smoking award winning BBQ. I have other books, but there isn't one that is equal to what this book provides in terms of techniques, the rub recipes are A+ as well. Trust me; if you buy a Smokenator 1000, you won't be disappointed. My system for rubs is to make different batches of rub and store them in re-used spice bottles that have holes in the top for easy application. I also keep Bad Byron's Butt Rub Barbecue Seasoning on hand because this is hands down, the best rub on the market today. I've used it on ribs, whole chickens, chicken wings, catfish, vegetables, you name it! If you are serious about grilling and smoking, grab your self a bottle today, and you will thank me later!
What is the Smokenator?
In Arizona, our house has space limitations, and for our wedding, we received a large gas grill as a present, and I already had a Weber charcoal grill which we used for BBQ on the weekends when we had more time to prepare our food. I wanted a Weber Smokey Mountain smoker, but my wife came up with a better idea, Bam!  She decided to buy a Smokenator 1000.  It has been a great substitute, and hopefully a stepping stool to a full-fledged smoker.  One weekend I fired up the Weber and smoked some fantastic ribs with the Smokenator.  I recommend starting with some ribs as they seem to be the easiest meat to smoke and to be honest, if things don't go as planned, you can always throw the ribs on the gas grill or in the oven. A whole chicken is a little more cumbersome to deal with only half-cooked. So I recommend going down to your local meat market and grab a rack of ribs.  Ribs aren't the only meat that you can smoke with the Smokenator. Over the last few years using the Smokenator and my Weber Grill, I've successfully smoked Chicken Quarters, a Whole Chicken, Pork Shoulder, Beef Brisket, a Whole Ham, and many, many racks of ribs.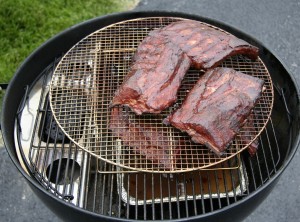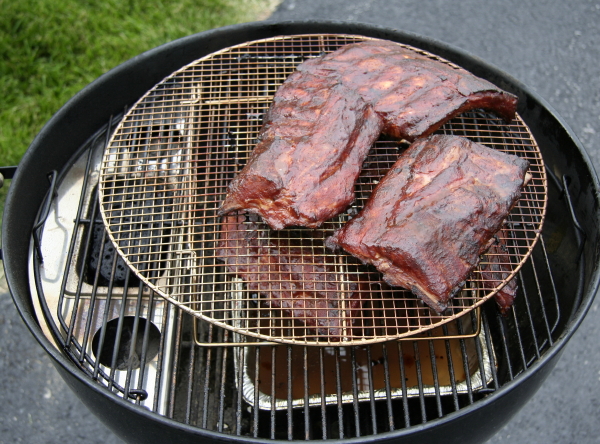 Setting up the Smokenator: How-to Guide
The basics of the how-to guide for the Smokenator are to practice and do dry runs until you master the temperature levels. Always be consistent with the tools you use (thermometer, charcoal, etc.) and always make sure to record the steps you take so you can easily replicate them for the next time. The key to getting the right smoke and taste is to use lump charcoal, make sure you get lump instead of Kingsford if you can help it.  I live in the Phoenix area, and I was able to buy a 20 lb bag of lump charcoal for $6 at my local Fry's grocery store. The lump charcoal gives you a longer more consistent burn and a little bit different taste too. I've also found that if you live in a city with an Amazon warehouse (like Phoenix), you can typically get a good deal on charcoal with Amazon and it arrives quickly and in pretty good shape. Too many travel days will cause the charcoal to get broken up or pulverized. If you're looking for the best lump charcoal, use this link for 10% off Fogo Charcoal.
The key to the whole system is temperature, make sure you get a smoker thermometer, instead of the recommended meat thermometer and a clip.  The smoker thermometer is slightly larger than the hole in the Weber lid.  It does fit nicely at an angle or using the locking nut to hold it in place.  This is one of those exercises where you DO need to read the Smokenator Manual fully before starting.  Make sure you understand the process of controlling the temperature.
I've used the Smokenator twice now, and I like it as an alternative or temporary solution to having a smoker.  The main thing I need to work on is controlling temperature.  I think the area for improvement is in keeping the coals consistently hot and keeping a good flow through the entire 4-hour smoke. Another item you might want if you're cooking multiple racks of ribs is the Hovergrill for the Smokenator.
If you follow the directions that were provided in the manual, then you'll have no problem. The biggest thing is to make sure you know your Weber grill through and through. It'll be very hard to maintain the minimum temperature if you've got a leaky kettle. The Smokenator 1000 will only be as good as your kettle grill, and of course, the leading brand is Weber. As I mentioned before, I highly recommend getting Franklin Barbeque: A Meat-Smoking Manifesto book, lots of great BBQ instruction and tips as well as recipes for rubs and sauces and looking for more advanced smoking techniques? Learn how to cold smoke cheese on a smoker. You'll never want regular cheese again! I also cover topics like how long it takes to smoke cheese, the best cheese for smoking, and my favorite wood for smoking cheese.
Video of the Smokenator
Here's a great YouTube Video about the dry run which is very important, you need to do the test run, I cannot stress it enough!! I did two dry runs before smoking anything. Every Grill has areas that may be imperfect, and it's possible it will leak because of a poor seal between the top and the bottom pieces of the grill. It's just important to understand how your grill heats up and also holds the heat as well.
Here is a video of the late Smokenator creator, Don Thompson explaining the features of the Smokenator and also Cooking Low and Slow with the Smokenator:
Download the Smokenator 1000 Manual
Here is the Smokenator manual for download.
Disclosure: If there is a product that I like and it has an affiliate program, then I might link to that product using an affiliate link. By using an affiliate link it means that I might earn a commission on a product if you buy something through that link. This doesn't cost you anything but I just wanted you to be aware.